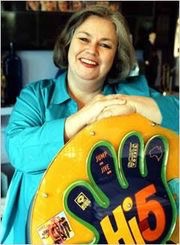 Posie Graeme-Evans (b. Rosemary Graeme-Evans in Nottingham, England) is an Australian novelist, television and film producer, editor, screenwriter and director, best known for her children's programs and adult dramas. She has created many commercially successful and award winning programs throughout her career, but she is best known as creator of McLeod's Daughters, which during its 2001-2008 run won eight Logies, and Hi-5, which has won three Logies and five ARIA awards. Her other notable credits include Mirror, Mirror, which won an AFI and a GOFTA award. She was also Director of Drama for the Nine Network from 2002-2005 and has written five historical dramas, published by Simon & Schuster.
Ad blocker interference detected!
Wikia is a free-to-use site that makes money from advertising. We have a modified experience for viewers using ad blockers

Wikia is not accessible if you've made further modifications. Remove the custom ad blocker rule(s) and the page will load as expected.