Hi-5 Philippines



First airdate

June 15, 2015

Final airdate

April 29, 2016

First episode

Human Body

Final episode

Vistiting

Produced

Tremendous Entertainment Group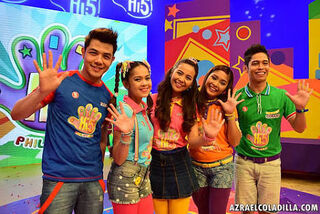 Hi-5 Philippines is the Filipino version of the Australian children's edu-tainment series of the same title as the first franchise in Asia. Hi-5 Philippines is released on TV5 on June 15, 2015. It airs every morning. Hi-5 Philippines is televised exclusively on the said network.
Cast members
Edit
Songs of the Week
Edit
Season 1 (2015)
Edit
Season 2 (2016)
Edit
Season 3 (2017) - Primered in April 2017
Edit
Introduction
Edit
Launched in Australia in 1999, Hi-5 rapidly grew in popularity over the years. It has won three Logie Awards for Most Outstanding Children's Program, five ARIA Awards for Best Children's Album and five Australian DVD and Video Industry Awards, among other achievements. It was then that Hi-5 started expanding its reach by franchising the show across North America, Europe, Australasia, Latin America, and Asia. However, this is the first time that the Hi-5 franchise assembled an entirely new cast for the localization of the show in Asia. The Filipino version of the musical group is currently one of the only two casts for Hi-5, the other one being the Australian cast.